Home
Talk

0
109pages on
this wiki
Welcome to Didnapper Wiki!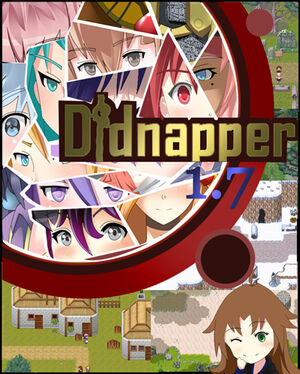 This site is devoted to sharing information about Didnapper. Anyone who feels like it can edit this site.
Game description
Didnapper is an RPG Maker XP game originally started by Wychkith for the ADIDAS Message Board.
Wiki Content
News
Didnapper v.1.7.0 is in the Works
[5.11.2014] the new Beta 1.7.0 is now in the works and it will come someday in the first quarter of 2015.
Bugfix update 1 & 2 for Didnapper v1.6.4
Several bugs and glitches fixed, so if you're experiencing some, download the game again and check the enclosed change log. You can find the game in the Game Download section as usual. Have fun~
Didnapper v1.6.4 is out!
You can find it in the Game Download section as usual. Have fun~
Didnapper V1.6.3 is in the Works
[29.8.2013] Kendrian said that he and other artists have added Suki and a new unrevealed character to the Private Cell,a new Mission and several new (unrevealed) features so far. The new beta has no release date yet.
Didnapper v1.6.2 is now open for download
[9.7.2013] The link is on the Game Download page.
Upcoming bug fix/graphic update release (v1.6.2)
[28.6.2013] Seems like v1.6.2 will soon be out, which will be a small graphic update. The next update (v1.6.3 or v1.7) might become a big update featuring new game mechanics and features. This is all still in early stages, as there still are some graphics to be completed before the release of v1.6.2.
Bugfix update - v1.6.1
[3.5.2013] An update with several bug fixes and some minor tweaks and additions can now be found on the Game Download page.
Recruiting artists
[1.10.2012] The Didnapper Team is recruiting artists for character designs, spriting and battle graphics. They should be at a confident level, but won't be asked to do more work than they feel like doing. The drawings don't need to be colored, but if they are not, a clean lineart is preferable, so that someone on the team (or other participants) can color it for you. You can also redraw graphics that are already in the game, and if your version is better than the one already in the game, we'll use yours instead.
Poll
What do you want the development team to focus on the most for the next update?
Hot Topics
Latest activity